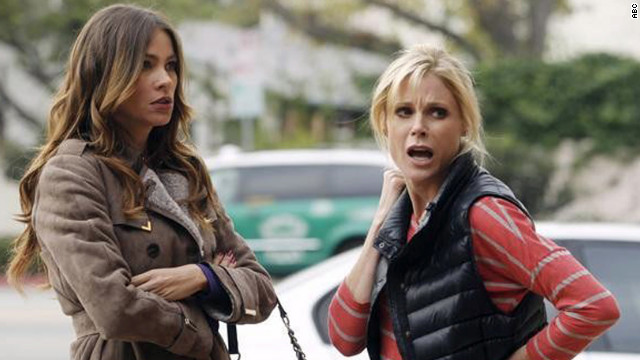 "Modern Family's" Gloria Pritchett (Sofia Vergara) and Claire Dunphy (Julie Bowen) are two of TV's most lovable moms. The pair don't always see eye to eye, but they always put their families first. Here are more of our favorite small-screen mothers:
A permanent fixture on lists of TV's best moms is lawyer Clair Huxtable (Phylicia Rashad). Clair was "The Cosby Show's" loving, no-nonsense mother of five. Sondra, Denise, Theo, Vanessa and Rudy would be proud.
"Gilmore Girls" followed Lorelai Gilmore (Lauren Graham) and her daughter, Rory (Alexis Bledel), whom she gave birth to at 16 years old. The single mother is often included on lists of TV's top moms.
"The Brady Bunch" was in good hands with loving mom Carol Brady (Florence Henderson) leading the way.
"Arrested Development's" Lucille Bluth has questionable parenting skills, but her biting comebacks to her kids are comedic gold. Fans who've missed Lucille's winking and martini swilling are thrilled that Jessica Walter has reprised her role in the new season on Netflix.
most quoted Florida Evans line
is one said out of grief, but Esther Rolle's matriarch on "Good Times" often delivered the lines that got some of the biggest laughs.
The
Roseanne was the outspoken and straight-shooting leader of the Connor family on the sitcom that bears her name. She could be crass as she tended to her kids D.J., Becky and Darlene (portrayed by Sara Gilbert, seen here), but that was also a big part of her charm.
Whether you love her or just love to hate her, "Mad Men" wouldn't be the complex drama that it is without mom of three Betty Draper, who later became Betty Draper Francis.
Edith Bunker is a classic -- and hilarious -- TV mom. Played by Jean Stapleton on the 1970s sitcom favorite "All In the Family," Edith was on the obtuse side, but her good intent won the hearts of viewers.
Shirley Jones was in familiar territory when she played Shirley Partridge, the widowed mom traveling with her kids as a band on "The Partridge Family." Her stepson David Cassidy also played her son Keith on the '70s series.
Louise Jefferson (Isabel Sanford), better known as Weezy, was introduced to viewers on "All in the Family." The TV mom of two later stole the spotlight alongside her TV husband, George (Sherman Hemsley), when she "moved on up" to "The Jeffersons."
There's a good chance "Married ... with Children" fans weren't jealous of Kelly and Bud, but Peggy Bundy (Katey Sagal), their big-haired, animal print-wearing mama, is still one of our favorite TV moms.
Leave it to June Cleaver. Wally and the Beaver's mom, played by Barbara Billingsley, certainly had her hands full on "Leave it to Beaver," which aired on CBS before moving to ABC.
Meredith Baxter, seen here with Justine Bateman, played Elyse Keaton on the '80s favorite "Family Ties." Balancing her career with her family life, she was always ready to offer a shoulder or a listening ear to her four kids.
Marion Ross played 1950s homemaker Marion Cunningham on "Happy Days." Mrs. C, as The Fonz called her, took care of her husband, Howard; their kids, Richie and Joanie; and Fonzie.
Bonnie Franklin, left, played beloved TV mom Ann Romano on CBS' "One Day at a Time." She's pictured here lecturing Valerie Bertinelli's Barbara Cooper, one of Romano's two teenage daughters on the show, which ran from 1975 to 1984.
Nancy Botwin (Mary-Louise Parker) would do anything for her family: The widowed mom on Showtime's "Weeds" began selling marijuana to support her sons.
Known to fans as Aunt Becky, "Full House's" Rebecca Donaldson-Katsopolis (Lori Loughlin) became a mother figure for D.J., Stephanie and Michelle. She gave birth to her own children, twins Nicky and Alex, during the show's sixth season.
Another mother figure to make the list is "The Facts of Life's" Mrs. Garrett (Charlotte Rae), pictured here with Natalie Green (Mindy Cohn). Originally the housekeeper on "Diff'rent Strokes," Mrs. Garrett, the den mother-turned-dietitian at Eastland Academy, always had the girls' best interests at heart.
George Costanza's mom on "Seinfeld," Estelle Costanza, wasn't a part of the main cast, but she was always a welcome addition to an episode. Played by Estelle Harris, seen here with Jason Alexander as George, "Seinfeld" fans know that she only yells to show she cares.
"That '70s Show" matriarch Kitty Forman (Debra Jo Rupp) often provided comedic relief on the Fox sitcom. A nurse, wife and mother of two, Kitty took care of her family and their friends.
OK, so Kris Jenner isn't a fictional character -- but she's still one of the most recognizable moms on TV. As the head of the Kardashian-Jenner clan, Kris has given new meaning to the term "Mom-ager."
Our favorite TV moms
Clair Huxtable
Lorelai Gilmore
Carol Brady
Lucille Bluth
Florida Evans
Roseanne
Marge Simpson
Betty Draper
Edith Bunker
Shirley Partridge
Louise Jefferson
Peggy Bundy
June Cleaver
Elyse Keaton
Marion Cunningham
Ann Romano
Nancy Botwin
Becky Donaldson-Katsopolis
Edna Garrett
Estelle Costanza
Kitty Forman
Kris Jenner